Instant PoC 4 – Thinking about the InRoom Xperience, for the comfort of your meeting rooms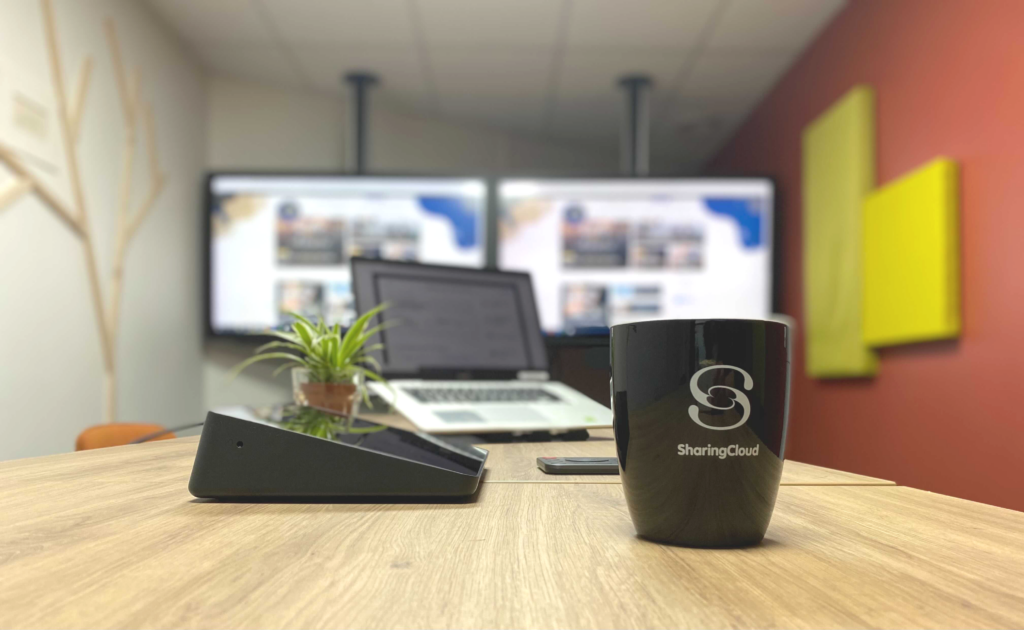 This summer 2021, SharingCloud organised the 4th edition of its PoC Moments. For this new edition, the teams focused on a single theme: the InRoom Xperience.
Three intensive days during which thirteen employees with varied profiles – developers, designers, technical writers, sales representatives, etc. – met in two teams to share their expertise and propose their ideas.
We would like to give you an exclusive insight into the results of this collaboration.
As a reminder, the functionality presented is not yet part of our roadmap. This article aims to show you the thoughts of our teams to optimise your daily experiences through our PoC Moments.
What InRoom XP could be, in a few words
InRoom XP is intended to optimise the comfort of your meeting rooms! InRoom XP would be an interface offering the ability to access a range of services within your room.
Would you like to adjust the temperature, order services, or extend your meeting? No problem, it's now possible with InRoom XP!
The interface has been designed to improve the user's experience during meetings and offers various features:
Visitor management: have a list of guests, see who has arrived, who is expected, generate a Wi-Fi guest code, etc.
Booking management: order services from the booking, start a virtual meeting, etc.
Easily control the comfort of your room: brightness, blinds, air conditioning, etc., depending on the technology deployed in the room
Provision of interactive documentation adapted to your environment (videos, pdf files, PowerPoint presentations, etc.) following the example of Instant TV
Assistance with the use of technological equipment
Incident reporting (audiovisual, IT, cleaning, etc.)
Evaluation of user experience: satisfaction survey, internal communication survey, etc.  
A simple, intuitive and modern interface
Here's how the home screen would look: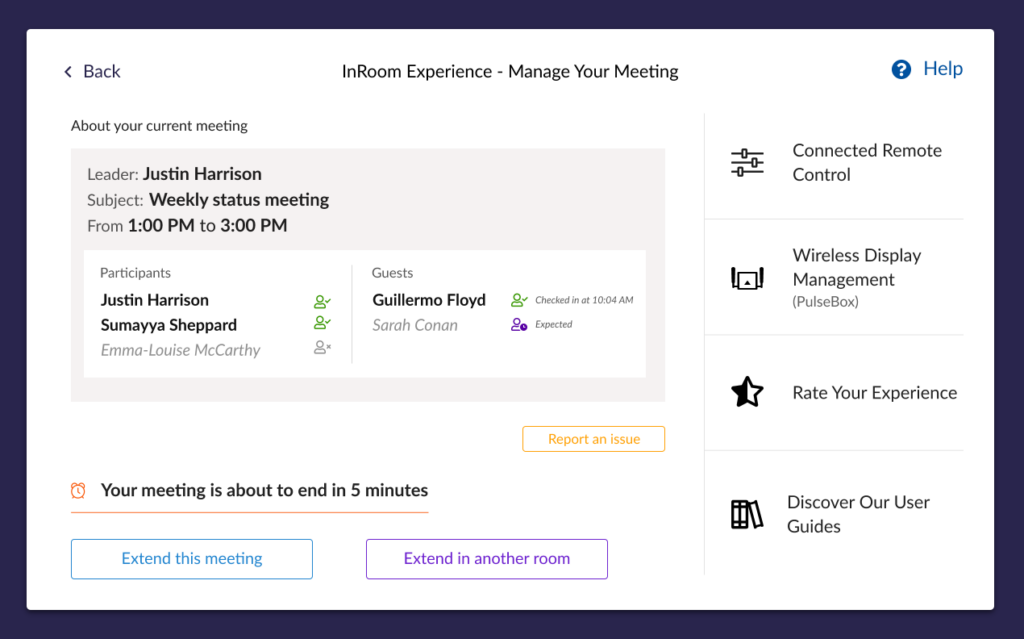 And an overview of two of the sections that would be accessible: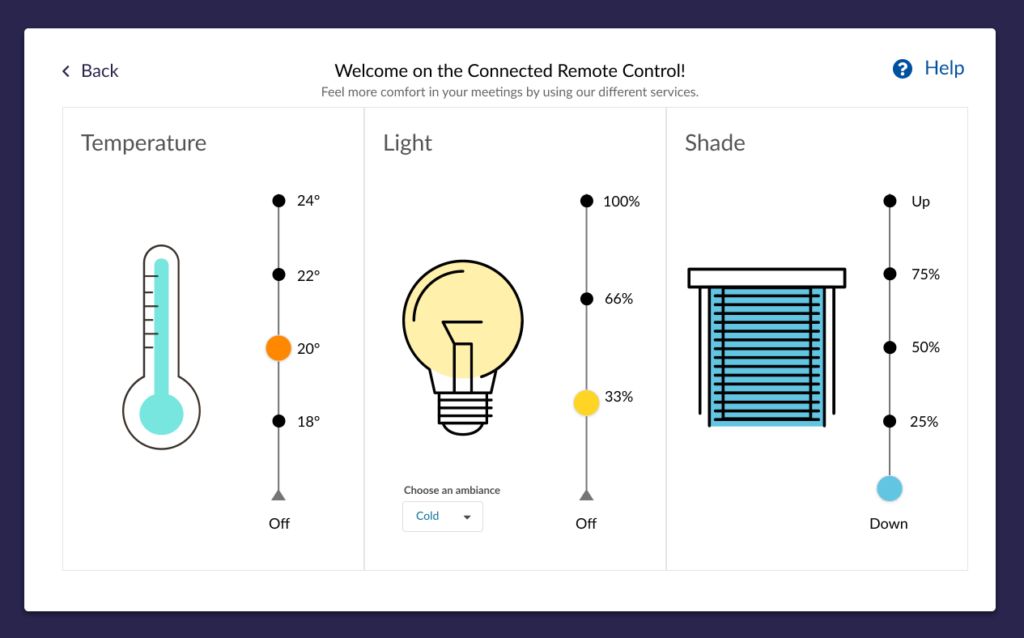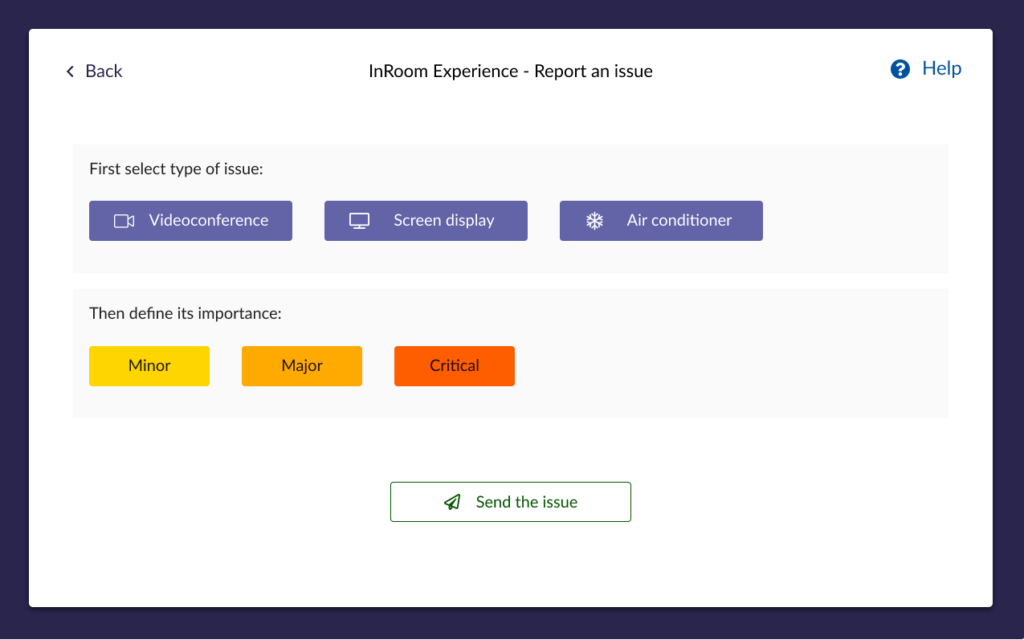 InRoom XP would integrate seamlessly with Microsoft Teams Room and all your devices
SharingCloud's strong relationships with its partners has allowed its teams to leverage each other's software and devices and to imagine different types of integrations.
In this case, InRoom XP would be a great opportunity for SharingCloud to consolidate its historical partnership with Microsoft. Indeed, this service would provide a powerful, comprehensive and fully integrated user experience with Microsoft Teams Room.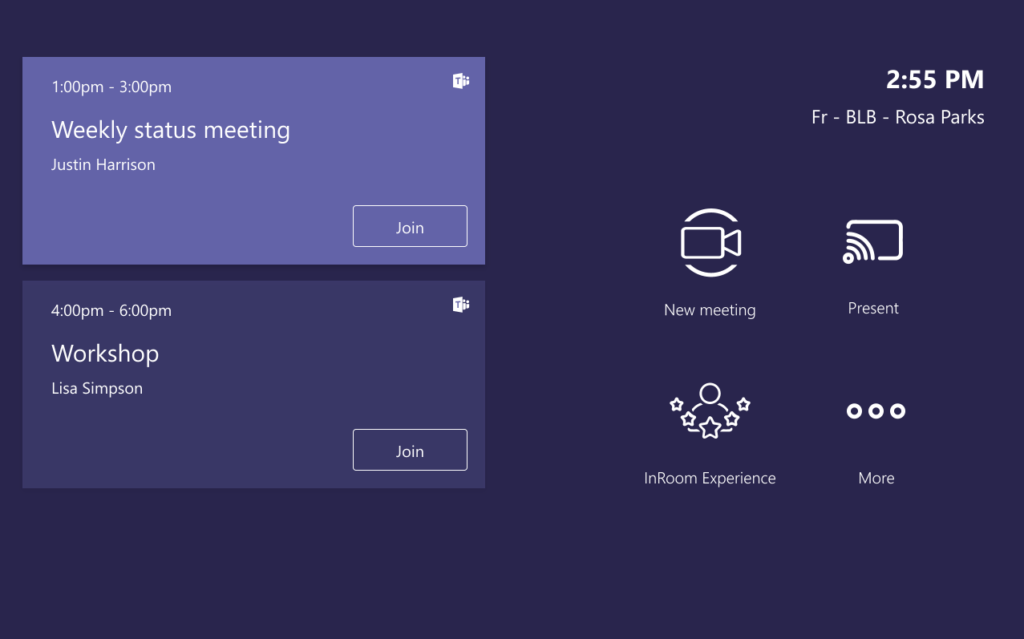 Moreover, InRoom XP has been designed to be available from any device, integrating with all interfaces through APIs. An effective way to facilitate its future deployment.
Rooms without devices will not be left behind as the services offered by InRoom XP would also be accessible directly via our Instant Mobile application or via a QR Code.
This PoC Moment allowed us to explore a multitude of scenarios that will satisfy your needs and meet the particular expectations of meeting rooms.
Congratulations to our teams for this new session rich in innovation!