The corporate world is rapidly evolving, and companies need to adapt to new working realities to maintain their competitiveness. With different generations sharing the same workspace, and the emergence of the Flex Office, it's vital to offer solutions that meet everyone's needs and preferences. 
Indeed, hybrid working points to an important challenge in intergenerational working environments: employees who are in favour of the Flex Office and those who are more reluctant to embrace it. 
At SharingCloud, Smart Office expert, we created the WorkplaceToBe solution, which brings together a wide range of integrated applications perfectly suited to the needs of all generations within companies. Based on the latest report from IDET – Institut pour le Développement des Environnements de Travail (Institute for the Development of Work Environments) entitled "La cohabitation de générations dans les espaces de travail – Mai 2023" (Generational mix in the workplace – May 2023), we can figure out how our WorkplaceToBe solution adapts to everyone's needs.
What was the average age of employees at your site?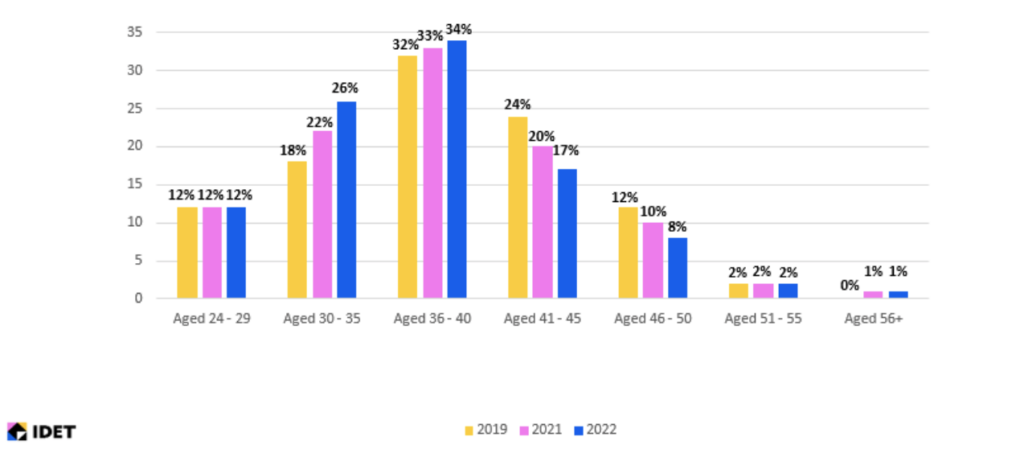 What was the average age of employees at your site?

A Personalized Employee Experience for Each Generation
The IDET report highlights the differences in work preferences and expectations between generations. Baby boomers may retain traditional ways of managing work, while millennials and Generation Z are looking for greater flexibility and mobility. WorkplaceToBe meets these needs by offering a customized employee experience, with the right tools and services for each employee, to optimize productivity and satisfaction at work. 
Flex Office and Hybrid Work Made Easy
With the advent of Flex Office and hybrid work, where employees alternate between the office and remote working, it's becoming essential to offer tools that help manage these modes of working effectively. WorkplaceToBe provides a simple, easy-to-use interface that enables employees to: 
Schedule their presence at the office taking into account that of their teams.

 

Book meeting spaces.

 
Access all corporate news and resources, wherever they are.

 
Integration with Leading Productivity Suites 
Older generations can sometimes be less comfortable with new technologies, particularly when it comes to managing administrative processes. The WorkplaceToBe solution is fully integrated with the most widely used productivity suites, such as Microsoft Outlook and Teams, as well as Google Workspace. This integration means that employees can keep using their preferred and familiar tools while taking advantage of WorkplaceToBe advanced features, helping all generations to become more efficient in their day-to-day activities. 
The latest IDET report highlights the importance of taking generational differences into account in modern workspaces, particularly with the rise of Flex Office.
WorkplaceToBe by SharingCloud is a complete, integrated solution for an intergenerational Smart Office that meets the needs and preferences of every generation in the workplace. 
It brings to everyone: 
Efficient management of hybrid work and optimized presence in the office.

 

Access to all company news and day-to-day management tools via the WorkplaceToBe mobile app. 

 

Simplified booking of meeting spaces, room services (meal trays, room preparation, reception, coffee, etc.) and guest invitations thanks to the extension offered by the WorkplaceToBe for Outlook add-in.

 
By adopting WorkplaceToBe, organizations can not only ease the transition to Flex Office, but also enhance the employee experience and boost productivity across all generations. 
Thanks to this smart solution, the Smart Office of tomorrow is becoming a reality for everyone. 
For more information, contact our Sales teams: sales@sharingcloud.com